Ferodrox utilizes 6 research-backed compounds to create the ideal environment for building lean muscle and power. Support healthy testosterone levels, manage cortisol, and drive protein synthesis with premium ingredients in precise doses.
MAINTAIN PEAK TESTOSTERONE
Key ingredients like KSM-66® Ashwagandha are clinically shown to maintain healthy testosterone status for optimal performance and physique goals.
Ferodrox targets pathways involved in protein synthesis and recovery. With this 3-capsule pre-workout dose, you'll have the anabolic edge to fuel new gains.
Contains plant extracts and vitamins, no illegal or banned substances. Ferodrox is formulated for natural lifters who train hard and take their fitness seriously.
Testosterone is the king hormone for all things building muscle, boosting strength, and living with vitality.
However, testosterone levels fluctuate due to age, stress, diet, and more. Whereas most "testosterone booster" supplements include 1 or 2 unproven ingredients in unsound (or straight-up unknown) doses, Ferodrox pushes the envelope with 6 ultra-premium ingredients that help create the ideal anabolic environment for building muscle and strength.
The Ferodrox formula transparently discloses each ingredient and dosage. We extensively researched the clinical studies to determine the optimal amounts shown effective and safe.
Many competitors use shady proprietary blends to hide weak dosing. With Ferodrox, you know exactly how much of each premium compound you're getting in every serving. Our science-backed formula is carefully crafted to fuel your anabolic edge.
Kaged scientifically developed formula utilizes researched active ingredients to help support your natural energy and lean muscle growth. The proprietary blend is crafted to maintain healthy testosterone within normal levels, assist your body's cortisol regulation, and fuel your active lifestyle. With a commitment to clean delivery, the capsules are plant-based for smooth, gentle absorption.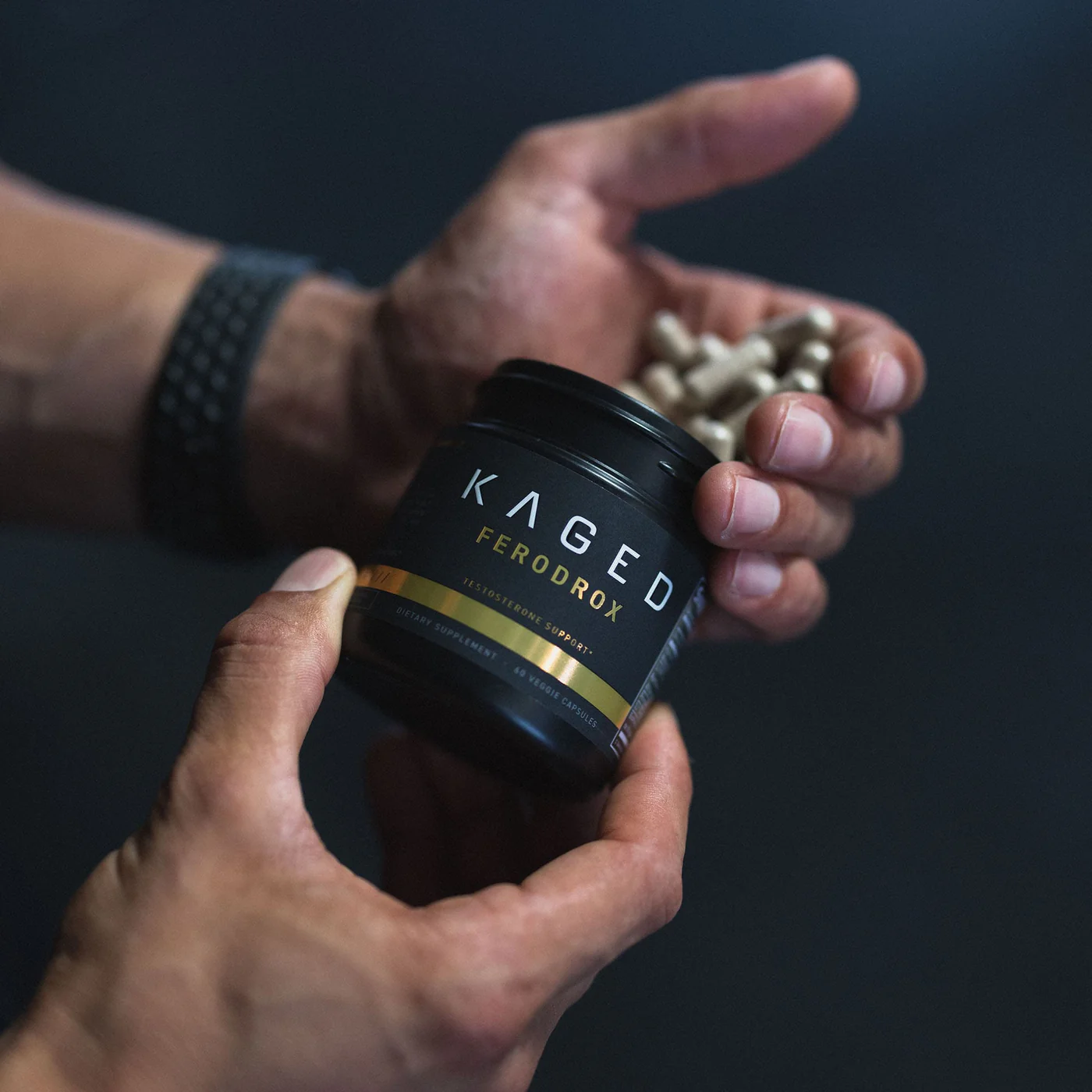 Ferodrox is formulated to support men over 30 looking to optimize their active lifestyle. The natural ingredients help maintain healthy testosterone levels already within the normal range, assist your body's cortisol regulation, and provide anabolic support for strength and muscle goals.*
Ferodrox is designed for daily use to keep your levels in balance. Take either the full dosage once per day or split into two partial dosages. The active ingredients can be taken long-term without cycling on and off. Ferodrox is tested for both safety and maximum effectiveness as part of your daily routine.
Ferodrox is a revolutionary supplement designed to help you maintain testosterone levels within the normal healthy range. With premium ingredients at clinical dosages, Ferodrox can help you add size, boost strength and performance, lose fat, and maintain a healthy testosterone-to-cortisol balance.
---
06 Customer(s) recommended this item
Reviewed by 06 customer(s)
This stuff is awesome!

I've been seriously working out for a decade and have tried various test boosters and ZMA products without significant results. But since I started taking Kaged Muscle Ferodrox, I've noticed a real change. It's been incredibly beneficial in my preparation for my first men's physique show.

Great!

After a month of taking Ferodrox, I noticed significant improvements in my sleep quality and overall energy and focus. I no longer depend on caffeine as soon as I wake up (I work from midnight to 8 am) and can maintain my focus until it's time to finish work. While I still enjoy my morning coffee, I'm no longer sluggish in the afternoons. This improved energy level is perfect for my evening workouts. I highly recommend it, especially for those working non-traditional shifts.

Not Liked

I followed the instructions and used this product for 3 weeks, but it didn't agree with my system. It increased my energy, focus, and mood slightly, but it made me incredibly hungry all day, and my sleep was disrupted. I kept using it, hoping it would balance out, but it didn't. It might work for others, but it didn't work for me. I decided to stop using it.

Ferodrox delivered beyond my expectations

I've been using Ferodrox daily before my workouts for about 6 weeks. Although I don't necessarily need a testosterone support at my age, I wanted to maximize my gains in the gym. It gave me a sense of urgency, boosted my confidence, and provided a calm intensity. In the gym, I felt unstoppable with consistent energy. I usually pair it with other Kaged products, especially Pre-Kaged, and the combination works wonders.

Good

This product contains Ashwagandha, which offers a range of benefits, including increased male fertility, stress relief, and even lowering blood sugar.

I absolutely love this product

It's been instrumental in helping me achieve my fitness goals. I like combining it with other supplements, and since I started using it, I've noticed my body getting slimmer and leaner. Being a guy, I plan on using this product for a long time. It has also helped boost my mood.
Only logged in customers who have purchased this product may leave a review.
ADDITIONAL PRODUCT INFORMATION
| | |
| --- | --- |
| Size | 60 Veggie Caps |
| Serving Size | 30 Servings |
| Flavor | Unflavored |
| Form | Capsules |
| Weight | NA |
| Packaging | Jar |
| Category | Vegetarian |
| Goal | Testosterone Support // Cortisol Maintenance // Estrogen Maintenance // Optimal Health Support |
| Country of Origin | USA |
Disclaimer:  The product/services information and reviews are not evaluated by authorities, and are not intended for diagnosing or treating diseases. User reviews are personal opinions and don't represent our views. Product details from seller might not be comprehensive; refer to labels for manufacturer info. Results vary individually and aren't typical.