PURE VEGAN FERMENTED BRANCHED-CHAIN AMINO ACIDS
Kaged BCAAs provide the scientifically proven 2:1:1 ratio of branched-chain amino acids (BCAAs) for optimal muscle growth and accelerated recovery.
Add unflavored BCAAs to any pre-workout, post-workout, or hydration drink for optimal muscle growth and recovery without compromising on flavor.
MUSCLE FUEL + RAPID RECOVERY
BCAAs are potent muscle fuel for peak performance during workouts and essential for post-exercise recovery.
Kaged BCAAs cater to diverse nutritional preferences, proudly standing as a vegan-friendly choice. 
Boost your supplementation with Build Your Own Blend, allowing you to tailor your supplement stack with trusted ingredients. We have raw unflavored ingredients like BCAAs, glutamine, citrulline, caffeine, and creatine to aid muscle building, muscle recovery, pump, energy, and strength. You can combine these raw ingredients with Hydra-Charge for hydration support and incredible flavor. Customize your pre-workout and post-workout drinks to your liking.
Amino acids are the building blocks of proteins in purest form. Our bodies can synthesize some amino acids (non-essential), but others (essential) must be obtained through diet or supplementation. Amino acids are essential for muscle recovery and help reduce muscle soreness after work.
In a market saturated with low-quality BCAAs derived from questionable sources, Kaged BCAAs are a premium product made with 100% vegan, fermented, and non-GMO ingredients. They are formulated with the scientifically proven 2:1:1 ratio of BCAAs (L-Leucine: L-Isoleucine: L-Valine) and dissolve rapidly and completely, leaving no cloudy residue. This means you get a BCAA product that can truly take your training to new levels.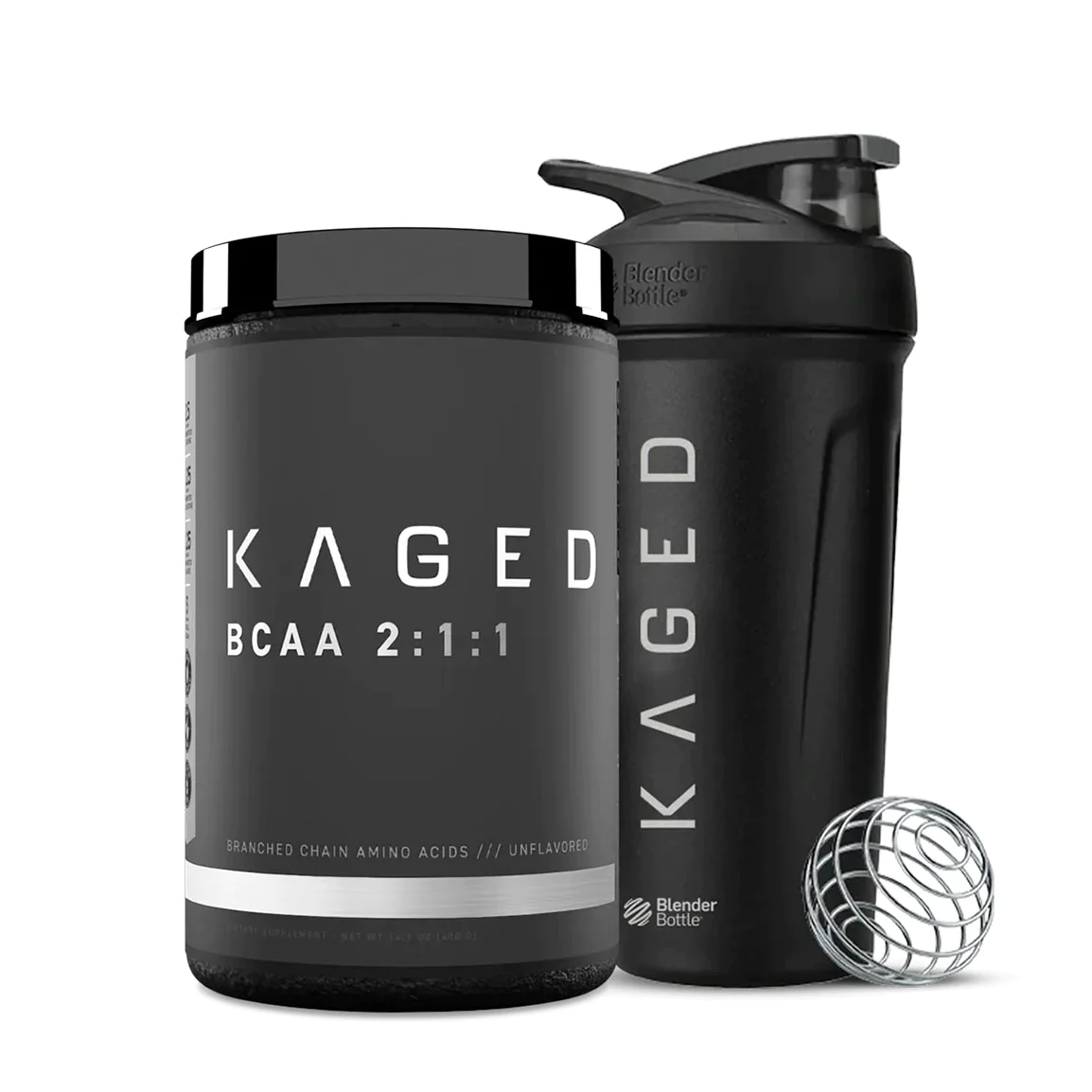 Fuel Your Muscles with Vegan BCAAs from Kaged
Kaged BCAAs provide the essential branched-chain amino acids (BCAAs) – leucine, isoleucine, and valine – your body needs to stimulate muscle protein synthesis, accelerate recovery, and reduce post-workout soreness. With the optimal 2:1:1 ratio of leucine, isoleucine, and valine, Kaged BCAAs give your muscles the right nutrients for growth and repair. Our premium formula contains 100% vegan, non-GMO, fermented BCAAs – no dubious ingredients like human hair or bird feathers. Kaged BCAAs mix completely into water with no cloudy residue thanks to rapid and complete dissolution technology. This allows for fast absorption to quickly deliver BCAAs to your muscles when they need it most – during and after your workouts.
Backed by science and formulated for results, Kaged BCAAs provide muscle-fueling branched-chain amino acids to support your training, recovery, and performance.
---
05 Customer(s) recommended this item
Reviewed by 05 customer(s)
I don't like the taste

I give it 4 stars because the performance is great for these BCAAs, but the taste is just awful. However, it works well. Taking these, I can push through more reps further into my workout

I love this BCAA!

 I've been taking it for a long time to recover my muscles after training. It's my favorite! It has no flavor, so you can mix it with your favorite smoothie or drink. Plus, I don't feel any soreness in my muscles the next day!

I would recommend it to others

I've been bodybuilding for about 17 years, and I've tried many supplements, including several other brands of synthetic BCAAs. bug kaged's fermented BCAAs I've tried and it has given me results I would recommend it to others

Good

Yes, other vegan BCAAs have flavors, but they are also double the cost. I've tried three other brands bought from Amazon, but this kaged one yield the best results perhaps we should never buy from amazon.

Mix it with others

I read that BCAAs can help with post-workout muscle soreness. I'm a small female, and I usually have one scoop post-workout with a scoop of  Protein and Greens in a green smoothie. It doesn't taste good on its own (hence the star off), but it has no taste when mixed into other things. I haven't seen results in terms of muscle growth, but I can always notice a difference between when I have used the BCAAs and when I haven't.
Only logged in customers who have purchased this product may leave a review.
ADDITIONAL PRODUCT INFORMATION
| | |
| --- | --- |
| Size | 400 Gms |
| Serving Size | 1 Scoop [ 5.5g] |
| Form | Powder |
| Weight | 400 gm |
| Packaging | Jar |
| Category | Vegetarian |
| Goal | Post-Workout Recovery |
| Country of Origin | USA |
Disclaimer:  The product/services information and reviews are not evaluated by authorities, and are not intended for diagnosing or treating diseases. User reviews are personal opinions and don't represent our views. Product details from seller might not be comprehensive; refer to labels for manufacturer info. Results vary individually and aren't typical.