PURE CREATINE. PURE RESULTS.
Creatine is one of the most well-researched supplements in existence, proven to help build muscle, increase strength, and enhance recovery.* Kaged Creatine HCl ™ is a 100% pure form that absorbs extremely well and mixes easily. This means all the benefits of creatine without the bloating.
Help create an optimal environment for building lean muscle.
Recharge more efficiently between sets and workouts.
PROGRESS TO THE NEXT LEVEL
Clinically demonstrated to assist your ability to lift heavier weight and push endurance.
Creatine is a substance naturally present in your muscles. Supplementing increases these creatine stores, allowing your muscles to perform at higher intensities for strength training, sprinting, and more. When your muscles are saturated with creatine, you're primed for next-level performance.
Simply, when we have muscles full of creatine that means better muscular performance.
Kaged Creatine is a pure form of CreOur pure Creatine HCl is highly soluble and mixes smoothly. This means no gritty texture or bloating* – just clinical purity and absorption. It's also vegan, non-GMO, and certified for quality assurance. The enhanced solubility allows you to effortlessly stack creatine with other top-quality supplements.atine HCl  is ultra-soluble and mixes easily. This means… No more grainy, uncomfortable texture, no bloating*, super soluble*, and easy to mix and stack with anything. Additionally, Kaged Creatine HCl 100% patented form to ensure purity, vegan, non-GMO, and Informed-Sport certified.
Combine premium raw ingredients like creatine, BCAAs, and citrulline with our Hydra-Charge flavors. With Kaged, you can dial in the perfect stack to fuel your training.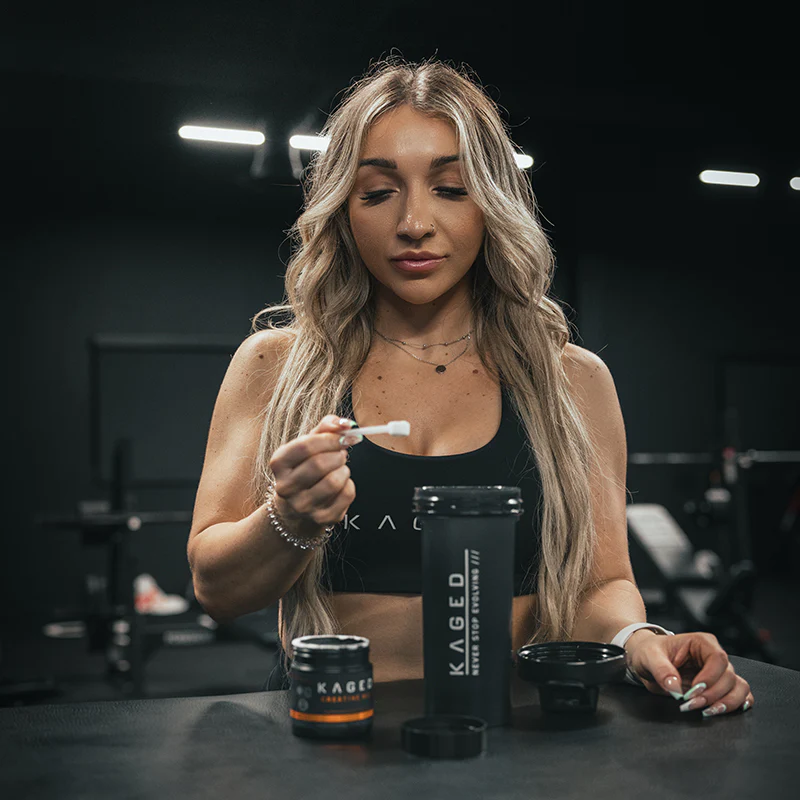 Creatine HCl is a patented version of creatine that is highly absorbable, reduces bloating, and requires no loading phase. Patented Creatine HCl costs 3x more on our end, but the quality is superior, it gets to work fast, and it delivers results that keep athletes coming back again and again.
---
12 Customer(s) recommended this item
Reviewed by 11 customer(s)
Highly recommend it.

I like most Kaged Muscle products. This is the second tub of creatine It dissolves easily in water or protein powder and has no taste.

Results Oriented Creatine

I've tried different creatine types, but this one is the best. The unflavored version tastes bad, but it's a supplement, not a treat. Results are what matter.

This small box surprised me. I can finally do pull-ups on my own, and my strength has improved. I'm 5'3″ and 50 years old. I've been using it for two months and I'm happy with the results.

Top Class

One of the best creatines I've used in 20 years. The flavors are good, and the unflavored one can be mixed with anything. It's expensive, but it doesn't cause stomach issues.

Good Pump Great one

The first time I used this, it felt amazing. I had incredible energy and endurance. I recommend trying it on a back/biceps workout day. The pump is almost too good, making you feel like a machine. My brother had the same experience.

Bloating issue

I've been using it for a few months now. It makes me slightly bloated, but not too much. My wedding ring doesn't fit anymore, so it's working.

Best one I've tried, really liked it.

Great!

I'm new to weightlifting and being overweight, this product has been great! It doesn't cause water retention, helps with extra sets, and allows me to lift heavier. It might be a placebo effect, but it's working for me.

Taste is bitter!

The jar is small, but you only need a small amount compared to regular creatine. It doesn't upset my stomach. My only issue is the bitter taste when mixed with water.

Good

This is the only product of its kind that doesn't give me a headache. It reduces my appetite and gives me energy
Only logged in customers who have purchased this product may leave a review.
ADDITIONAL PRODUCT INFORMATION
| | |
| --- | --- |
| Size | 75 Servings |
| Serving Size | 1 Scoop [750 mg] |
| Type | 75 Veggie Caps, Lemon, Unflavored, Fruit Punch |
| Form | Powder, Capsules |
| Weight | 56.25 gm |
| Packaging | Jar |
| Category | Vegetarian |
| Goal | Build Muscle |
| Country of Origin | USA |
Disclaimer:  The product/services information and reviews are not evaluated by authorities, and are not intended for diagnosing or treating diseases. User reviews are personal opinions and don't represent our views. Product details from seller might not be comprehensive; refer to labels for manufacturer info. Results vary individually and aren't typical.