ESSENTIAL NUTRIENTS FOR PEAK PERFORMANCE
Kaged MV provides your body with the 21 essential vitamins and minerals from organic whole food sources for maximum bioavailability. Proper nutrition is the foundation for energy, health, and achieving your fitness goals.
HIGH ABSORPTION FOR RESULTS YOU FEEL
Kaged vitamins and minerals are sourced from organic fruits and vegetables in forms your body recognizes and absorbs readily.
100% DAILY VALUE ACROSS THE BOARD
Kaged MV is meticulously formulated to provide 100% DV for each of the 21 essential vitamins and minerals. No pixie dusting – our premium formula delivers proper doses.
SUPPORTS HEALTHY DIGESTION
Added prebiotic fiber from Activaloe aloe vera to nourish your gut microbiome. A healthy digestive system means better nutrient absorption and utilization.
Getting enough fruits and vegetables is vital, but modern agriculture has depleted nutrient levels in produce. Many people have gaps in their nutrition as a result. A high-quality multivitamin provides assurance you're getting sufficient vitamins and minerals for optimal wellness and performance.
Fill Nutritional Gaps
While a healthy diet should come first, even people eating lots of nutrient-rich foods can have deficiencies. A multivitamin provides a nutritional safety net to ensure you get 100% of the essentials.
Support Energy and Resilience
Proper vitamin and mineral intake gives your body what it needs to function at its best. Kaged MV supplies essential nutrients to maintain energy levels, immune function, performance, and overall wellness.
Made from Real, Organic Superfoods
Kaged MV derives its vitamins and minerals from real fruits, vegetables, and herbs instead of synthetic compounds. This makes them more bioavailable so your body actually absorbs and utilizes the nutrients.
100% Daily Value – No Pixie Dusting
Many brands provide mega-doses far exceeding what your body needs. Kaged MV gives you 100% DV of the essentials without going overboard. No pixie dusting here!
Added Prebiotic for Digestion
Included Activaloe aloe vera extract which contains polysaccharides and prebiotic fiber to support healthy digestion and nutrient absorption.
For the Performance-Focused
If you want a strategic multivitamin to complement diet and exercise, Kaged MV delivers – sourced from nature's nutrients and properly dosed to help you perform at your best.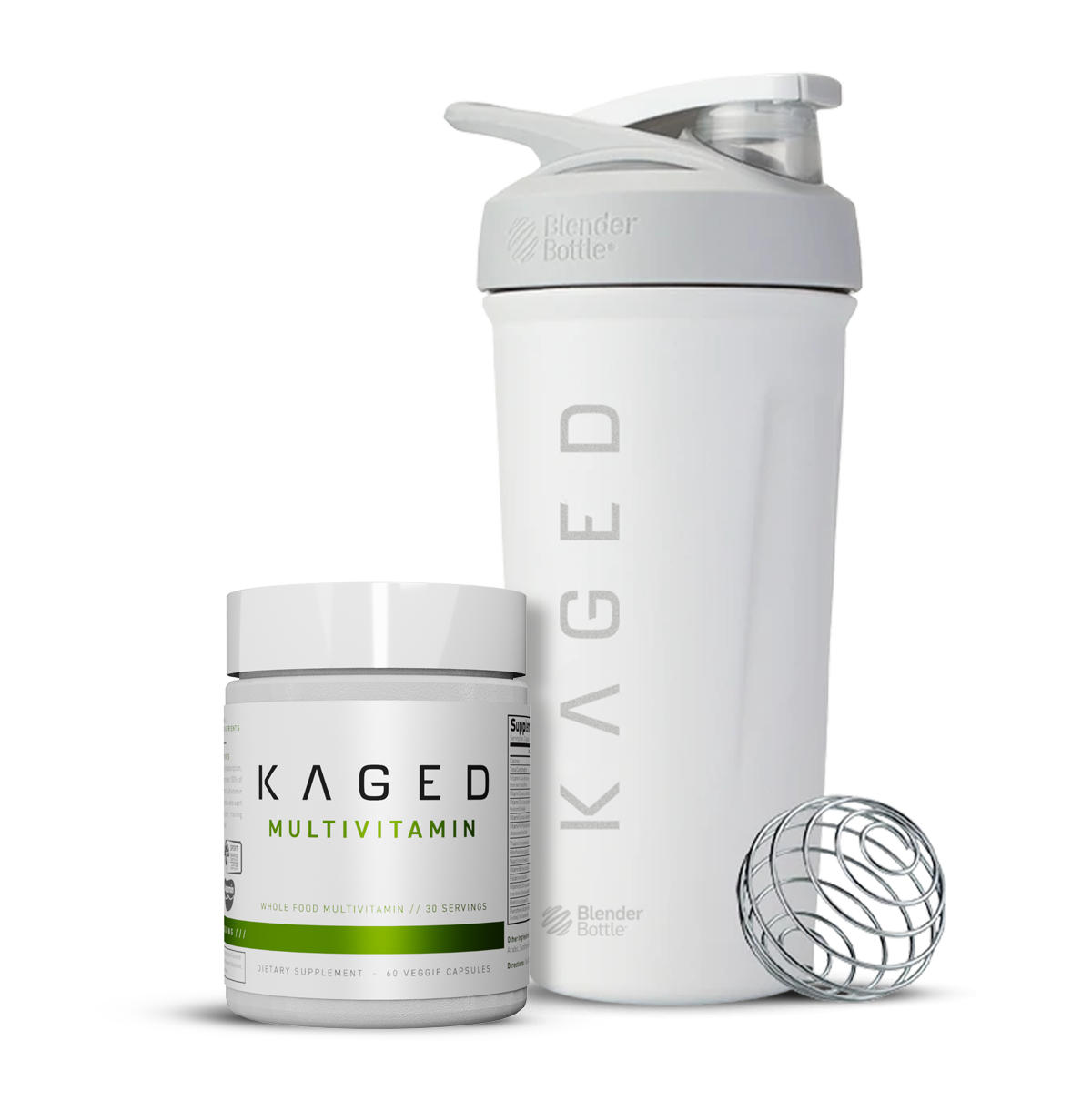 Pure, wholesome nutrition supporting your active lifestyle
Kaged Multivitamin – a daily whole food supplement providing 100% of 21 essential vitamins and minerals. Fill nutritional gaps to support overall wellness, and experience enhanced energy, mental clarity, and a stronger immune system. Prepared from whole food ingredients for superior absorption, Kaged Multivitamin stands apart from synthetic options. No fillers, no artificial additives
---
08 Customer(s) recommended this item
Reviewed by 08 customer(s)
Nice

This is my first time using this product, and it lives up to the high standards set by Kaged. Because the components are so good, I always prefer this brand. These vitamins are easy to swallow, haven't caused any digestive issues, and they offer great value for the money.

This vitamin is fantastic

I used to get sick a lot when working night shifts and being around my one-and-a-half-year-old son. I haven't gotten sick since I started taking this supplement, even when my son sneezes and coughs directly at me. It's clearly helping my immune system, which I'm grateful for.

Good Multivitamin

I rely on these as my multivitamin, and I'm a dedicated user of all their products. I love that they undergo third-party testing and are approved for sports, ensuring there are no hidden ingredients. It's one of the most organic options in the market, and the quality of the products they use is exceptional.

Buy it without thinking much!

I can take it whenever I want and it doesn't upset my stomach. It's also easy to swallow and full of nutrients. I love it!

Good Supp

I love Kaged Multivitamin, but I wish it didn't contain sunflower oil. I avoid it because it's inflammatory. Other than that, it's easy to take and well packaged. I recommend it, but be aware of the sunflower oil.

Recomended Good Product

Nice Combination.

I really loved it.

It's my 3rd time purchase so you can imagine how much I like this vitamin from Kaged.
Only logged in customers who have purchased this product may leave a review.
ADDITIONAL PRODUCT INFORMATION
| | |
| --- | --- |
| Size | 30 Servings |
| Serving Size | 2 Capsules |
| Form | Capsules |
| Weight | NA |
| Packaging | Jar |
| Category | Vegetarian |
| Goal | Multivitamins |
| Country of Origin | USA |
Disclaimer:  The product/services information and reviews are not evaluated by authorities, and are not intended for diagnosing or treating diseases. User reviews are personal opinions and don't represent our views. Product details from seller might not be comprehensive; refer to labels for manufacturer info. Results vary individually and aren't typical.