FUEL YOUR ACTIVE LIFESTYLE
Pre-Kaged Sport provides clean, sustainable energy to power you through any workout. This formula delivers moderate caffeine from organic sources to help you feel focused and motivated without the crash later. Staying well-hydrated is also key, so Kaged included taurine and coconut water for optimal cellular hydration. Experience the difference of strategic nutrition designed to boost your athletic performance.
ENHANCED ENERGY THAT FEELS GOOD
This blend utilizes natural caffeine from organic sources to provide a smooth lift without the jitters or side effects of synthetic caffeine. No mystery substances so you get clean fuel from ingredients you can trust.
HYDRATION FOR THE WHOLE BODY
Pre-Kaged Sport contains coconut water and taurine, two ingredients shown to assist hydration on a cellular level. Proper hydration is crucial no matter your workout activity.
ENHANCED PERFORMANCE WHEN IT COUNTS
Pre-Kaged Sport is designed to help you increase stamina, strength, and endurance so you can get the most out of your workouts. The ingredients work together to help you go harder for longer and combat fatigue.
Pre-Kaged Sport delivers an optimal blend of natural caffeine from organic sources along with L-tyrosine. This combination is designed to help elevate mental clarity and physical energy in sync. Experience the difference of our tuned nutrition carefully developed to get you in the zone for pursuing your active goals with purpose.
Drawing from experience training and crafting high-performance nutrition, Kaged selected key ingredients demonstrated to assist athletic goals. Our blend includes BetaPower betaine to help strength output, fermented citrulline to support muscular endurance, and CarnoSyn beta-alanine to help fight fatigue. Pre-Kaged Sport provides research-backed compounds to help you pursue new levels of performance and actively enjoy the activities you love.
Staying well-hydrated is key but often overlooked when it comes to fitness and nutrition. Kaged've included essential electrolytes from premium sources like Himalayan pink sea salt and Aquamin magnesium to help you maintain fluid balance. Proper hydration supports all aspects of an active lifestyle – from your workouts to recovery and beyond. Pre-Kaged Sport makes it simple to hydrate effectively so you can perform at your peak.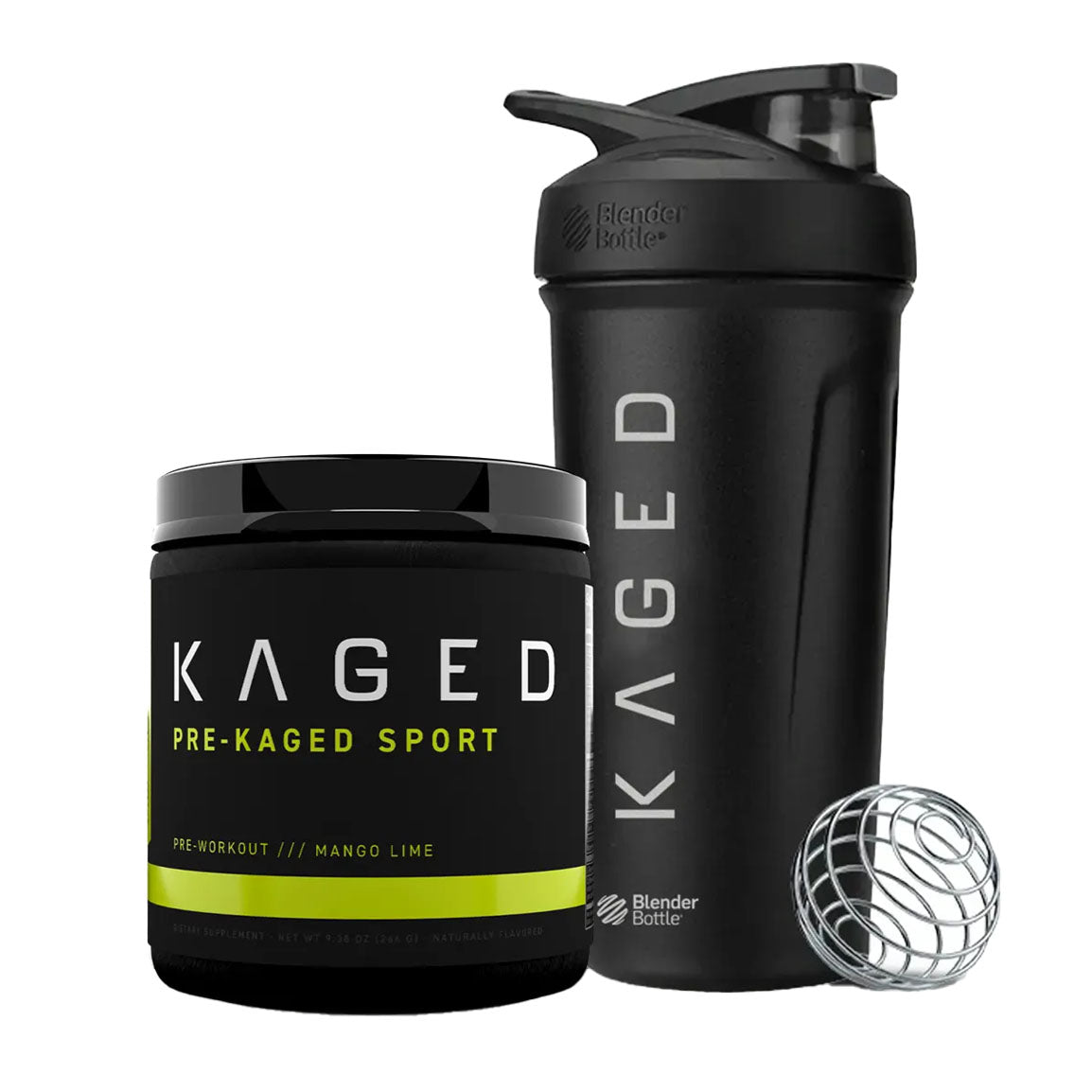 Pre-Kaged Sport can benefit both men and women pursuing any activity or skill level. Whether you enjoy HIIT, sports, strength training, or other fitness goals, our formula is tailored to fuel an active lifestyle.
Pre-Kaged Sport provides lighter caffeine and citrulline doses ideal for cardio, HIIT, sports, and lighter training days when you want clean energy without heavy stimulation. Pre-Kaged has higher doses better suited for intense lifting workouts requiring maximum power and focus.
Yes, you can trust Pre-Kaged Sport is formulated to be 100% gluten-free. We aim to provide quality, accessible nutrition to power your fitness journey.
Most pre-workouts are designed for bodybuilding, not athletics. Pre-Kaged Sport is specifically formulated for cross-training, cardio, and any athlete who wants to increase energy, endurance, focus, and mental clarity without feeling overstimulated. Pre-Kaged Sport gives you the edge you need to hit PR's, run the extra mile, and have more victory
---
05 Customer(s) recommended this item
Reviewed by 06 customer(s)
I used this before, and it seemed to help. I thought it didn't have certain ingredients, but I was wrong.

Best Product Around!

It mixes easily, tastes good, and you don't feel bad later. I've tried a lot of energy drinks since 2003, and this is one of the best.

Balanced Product

It tastes good and doesn't have too much caffeine, so you won't feel strange all day. You can use a bit more if you want, but I think it's more in your mind. I use this when I want a break from my stronger energy drinks. It's also good before tough exercises because it's not too strong. You can also drink it during the day instead of buying other energy drinks.

Good

I bought the watermelon flavor, and it tastes good. It took a bit longer than 30 minutes to start working, and my face felt itchy at first. But once I started exercising, the itchiness went away.

I don't like it.

It's small, so make sure to verify the quantity. Work for the entire week, and it will disappear in a month. I work three days a week and have half a day left over. On days when I don't work out, I don't utilize it. However, I must admit that it causes my hands to tremble for about an hour. I might not repurchase it, though I'm not sure why. It works, however because my hands feel weird every time, I'm not too happy with it.

Nice Flavors

I liked the different flavors, but the spoon is too big for me even in a big drink. Using just a little bit of the powder in a big drink gives the right taste. I recommend it.
Only logged in customers who have purchased this product may leave a review.
ADDITIONAL PRODUCT INFORMATION
| | |
| --- | --- |
| Size | 20 Servings |
| Serving Size | 1 Scoop [13.6 g] |
| Flavor | Blue Raspberry, Fruit Punch, Glacier Grape, Mango Lime, Watermelon |
| Form | Powder |
| Weight | 266 gm |
| Packaging | Jar |
| Category | Vegetarian |
| Goal | Energy // Focus // Hydration // Endurance // Strength // Power |
| Country of Origin | USA |
Disclaimer:  The product/services information and reviews are not evaluated by authorities, and are not intended for diagnosing or treating diseases. User reviews are personal opinions and don't represent our views. Product details from seller might not be comprehensive; refer to labels for manufacturer info. Results vary individually and aren't typical.