PURIFIED, HIGH-ABSORPTION OMEGA-3 TRIGLYCERIDES
Kaged Omega-3 is a high-absorption, ethically sourced, and sustainably caught fish oil blend that supports heart, joint, and brain health. It is derived from nature's supreme superfood and is designed to enhance training and performance.
Kaged Omega-3 is the purest form of omega-3, naturally occurring as most bioavailable and readily absorbed form triglycerides ensuring maximum benefits.
SUPPORTS HEART AND BRAIN HEALTH
Omega-3 fatty acids are lauded for their capacity to fortify cardiovascular health, optimize cognitive function, and contribute to holistic well-being.*
PRECISELY DOSED FOR MAXIMUM IMPACT
Each serving of Kaged Omega-3 contains a potent blend of 2000mg of EPA/DHA, ensuring you get the right dosage for optimum results.
Omega-3 fatty acids are nature's own superfood, abundantly present in fish. Harness their power to transform your health and vitality naturally.
Kaged Omega-3s come in the easily digestible triglyceride form, mirroring the composition found in fresh fish. The key fatty acids, EPA and DHA, are responsible for the remarkable benefits of fish oil. In each serving, you'll find 1100mg of EPA and 900mg of DHA, constituting 67% of the total fatty acids in Kaged Omega-3. This superior composition surpasses many other brands, ensuring you receive the maximum benefits.
Unlike most fish oils derived from antibiotic fed farmed fish, Kaged Omega-3 is a testament to purity. Sourced 100% wild-caught from the pristine coast of Chile, its origin is backed by third-party evidence. Kaged product stands apart, being free from antibiotics, heavy metals, and pollutants.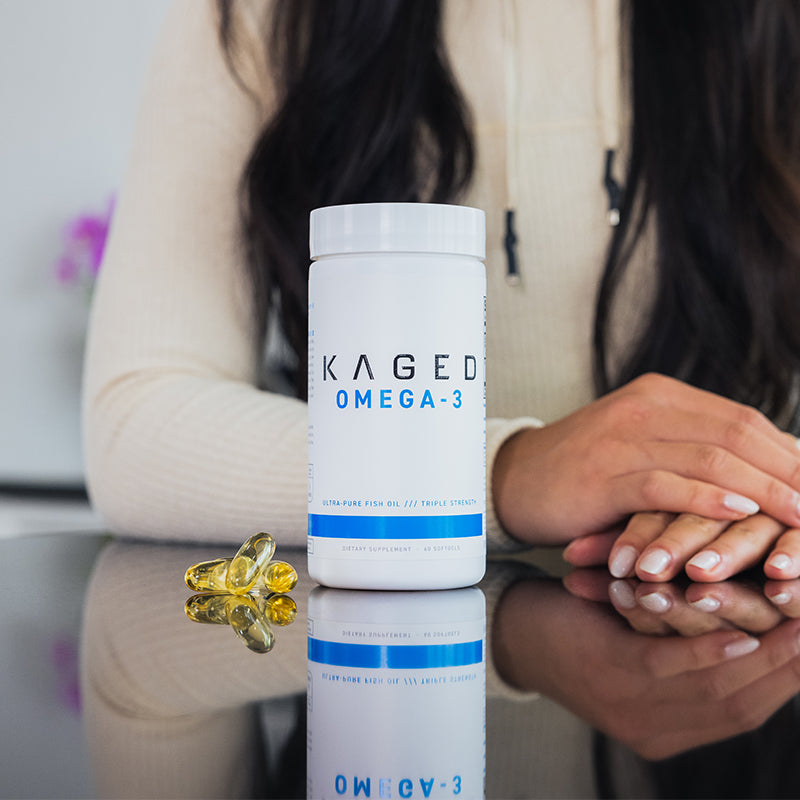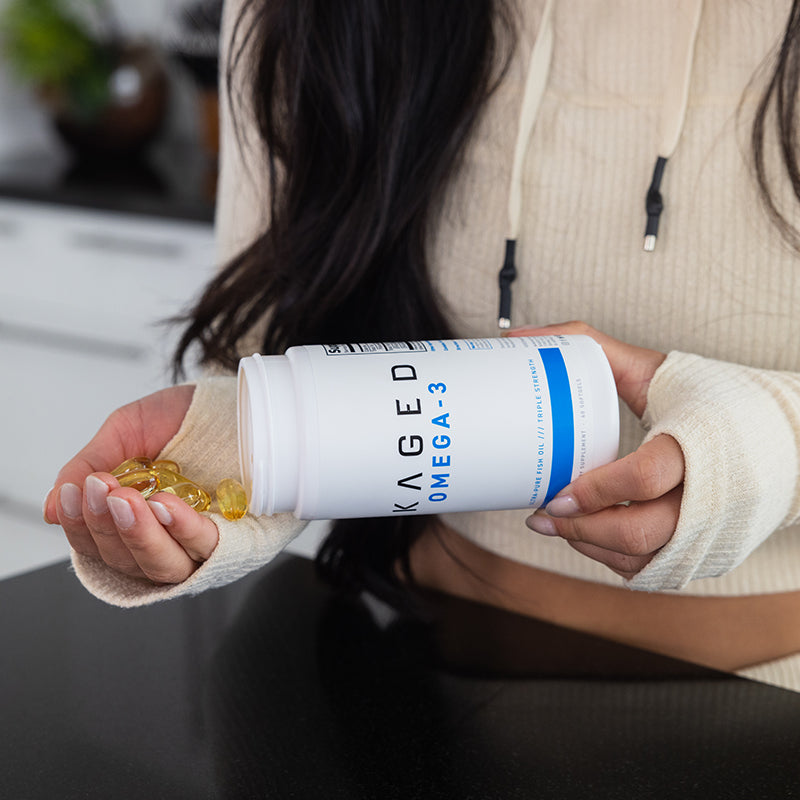 Dive into the Gold Standard in Omega-3 Supplementation
Kaged Omega-3 sets the benchmark for purity, potency, and performance. Sourced from the pristine waters of the South Pacific, Kaged omega-3 oil undergoes a gentle purification process to reduce heavy metals and environmental contaminants, resulting in a superior clear oil. Kaged optimize the levels of EPA and DHA to support the health of your brain, heart, joints, and more. The 2:1 EPA:DHA ratio provides an ideal balance to target overall wellness and performance goals. As leaders in ethical and sustainable sourcing, Kaged mandate 100% wild-caught, responsibly harvested omega-3 oil. Rigorous third-party testing ensures the highest quality, purity, and freshness in every batch.
With Kaged Omega-3, you get the gold standard in omega-3 supplementation. .
---
07 Customer(s) recommended this item
Reviewed by 06 customer(s)
Recomended.. Good Products!

I always recommend Kaged Muscle products. They are reliable and effective

This is a fantastic product!

 I've been using Kaged Omega 3 Fish oil for a while now. It's the purest fish oil available and very easy to swallow with water or yogurt. There's no aftertaste or burps. Recommended

No Fish taste in mouth after eating it

Good! After Trying various Omega 3 supplements, I tried Kaged ones and it's good no fishy taste best option.

This supplement gives me fish burps after consumption.

Good Fish Capsules

easy to swallow, no side effects

Better Capsules than other brands

This seem to be effective, although I haven't noticed a significant change in joint discomfort yet, because I've only been taking them for 3 weeks. They do give me bad burps, but I find it tolerable. It's best to take them with food.

Quality Product

This product doesn't taste like fish oil at all. It contains high levels of beneficial ingredients.
Only logged in customers who have purchased this product may leave a review.
ADDITIONAL PRODUCT INFORMATION
| | |
| --- | --- |
| Size | 60 Softgels |
| Serving Size | 2 Softgels [30 servings] |
| Form | Softgels |
| Weight | NA |
| Packaging | Jar |
| Goal | Performance // Heart + Brain Health |
| Category | Non-Vegetarian |
| Country of Origin | USA |
Disclaimer:  The product/services information and reviews are not evaluated by authorities, and are not intended for diagnosing or treating diseases. User reviews are personal opinions and don't represent our views. Product details from seller might not be comprehensive; refer to labels for manufacturer info. Results vary individually and aren't typical.